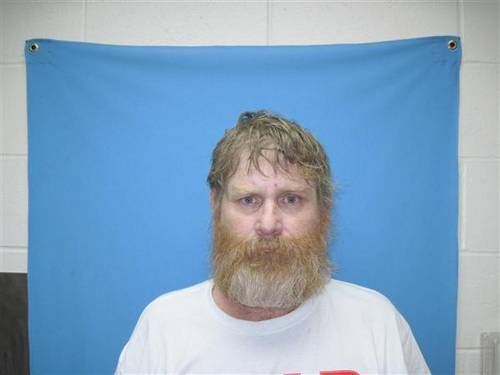 Randell Eugene
Wisham
A Thursday complaint about sexually-related harassing phone calls by a female against a male has led to the arrest of Randell Eugene Wisham, age 52 of Three Springs Road near Violet Hill. Wisham, a convicted felon was charged with being a felon in possession of a firearm and is being held pending the additional charge of harassing communications before an appearance bond will be set.
Following a one vehicle accident late Sunday night on Chessman Ferry Road in Calico Rock, Ricardo Laudia Lee Rye, age 61 of 101 Caldwell Street, Calico Rock was arrested on charges of driving while intoxicated, failure to stop after an accident, careless and prohibited driving, and refusal to submit to a chemical test. Rye remains in the Izard County Detention Facility in lieu of $1,360 bond.
William Roger Webb of South Bend Drive, Horseshoe Bend was arrested near midnight Saturday and charged with disorderly conduct. The 66 year old was arrested about two weeks ago and transferred to a Batesville medical facility. Sheriff Tate Lawrence said Webb will likely be again transferred to a medical facility for an evaluation.
Nathaniel Allen Lee Speak, age 28 of Calico Rock was arrested Friday afternoon on an Izard County failure to pay fines warrant along with warrants from Marion and Baxter counties. Speak remains in the Izard County Detention Facility.
Lonnie Eugene Strauser, age 40 of Salem and Paul David Beaver, age 27 of Horseshoe Bend by the Izard/Fulton County Drug Court. Each was given a seven day commitment in the Izard County Detention Facility.
Robert James Dockins, age 33 of Dolph appeared in Izard County District Court on Thursday and tested positive for four illegal drugs including marijuana and methamphetamine. Dockins also faces additional drug charges following items discovered in his car that was parked at the sheriff's office.
Timothy Doyne Langston, age 46 of Cave City was arrested Friday on a child support enforcement body attachment. Langston remains in the Izard County Detention Facility.
Marty Grant Sexton, age 35 of Calico Rock was arrested around midnight Sunday on a Baxter County warrant while deputies were investigating a gasoline theft. Sexton remains in the Izard County Detention Facility.
News Release
For Immediate Release
September 19, 2011
POC: Sheriff Tate Lawrence
870-368-4203