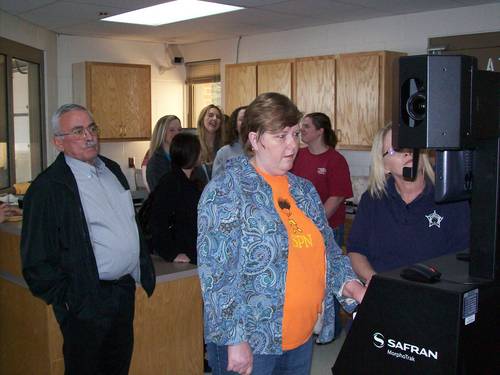 The booking area of the Izard County Detention Facility was crowded and extremely busy last Monday morning. It was not because inmates were being booked into the facility, it was because the Izard County Sheriff's Department was fingerprinting LPN students from Ozarka College as they have done for the past several years.. This time was different however because the task of fingerprinting was the by a new electronic fingerprint system. The system electronically transfers the finger prints to a card and to national date bases when appropriate. Sheriff Tate Lawrence said this new techno and equipment were made possible by the Arkansas State Police a couple of months ago at no charge to Izard County for saving about $30,000 as compared to having to purchase the equipment and system.
The ink and card method previously used was messy and required several weeks to compare the prints to prints on file with the Arkansas State Police, the Federal Bureau of Investigation, and other data bases. With this equipment, fingerprint comparisons can be made in less than twenty minutes.
Sheriff Lawrence said the sheriff's department makes this equipment available to anyone needing to be finger printed, be a requirement of a job application or whatever. This service is free to the public. Lawrence also said that he has made theses services available to the Horseshoe Bend Police Department and other nearby agencies.
News Release
For Immediate Release
February 26, 2011
POC: Sheriff Tate Lawrence
870 368 4203
Note: Picture provided of Sheriff Lawrence observing Detention Officer Sherry Davidson fingerprinting nursing student Joyce Wollschlager.