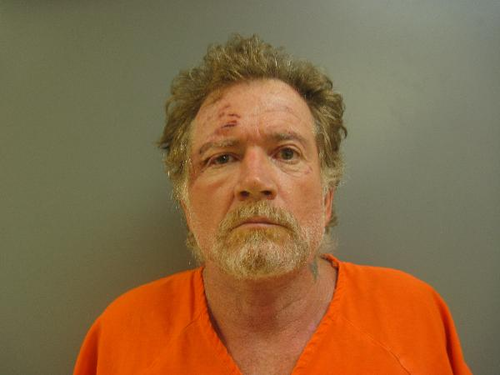 RICHARD BROWN
A Pineville man was arrested last Tuesday night after wrecking his van in midtown Calico Rock. Richard Thomas Brown, age 54 was charged with driving left of center, driving on a revoked license for DWI, operating a motor vehicle without insurance, fictitious license plates, refusal to submit to a chemical test, resisting arrest, and having no seat belt. The wrecked van caught fire after landing on it's side and was extinguished by the Calico Rock Fire Department. According to Sheriff Tate Lawrence, Brown has a lengthy history of encounters with law enforcement, and remains in the Izard County Detention Facility in lieu of $2,995 bond.
Stephen Shaw Pool, age 23 of Calico Rock was arrested Sunday night following a compliant that he took a vehicle of another without permission. During the course of the investigation, it was determined that Pool had an outstanding Izard County warrant for failure to appear. Pool was charged with failure to appear and unauthorized use of a vehicle. Pool, according to Sheriff Lawrence, remains in the Izard County Detention Facility in lieu of a $500 cash bond and a cash or professional bond of $1.105
Kathern-Marie Leona Vinzant, age 33 of Cave City was arrested on an Izard County failure to pay fines warrant. Vinzant appeared before District Judge David E. Miller and was given a court date of September 27.
Rebecca Diane Farvour, age 26 of Oxford was arrested Friday numerous Fulton County warrants
Ricky Lee Schiltz, age 50 of Sage, after being held in the Izard County Detention Facility since early August, was transported September 4 to an Arkansas Department of Correction facility in Malvern.
News Release
For Immediate Release
September 10, 2012
POC: Sheriff Tate Lawrence
870 368 4203
Note: Picture of Brown provided