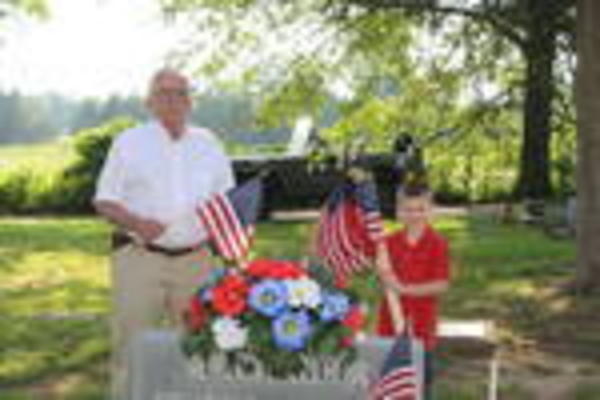 Adam Cone, five year old grandson of Sheriff Tate Lawrence helps Grand Dad place American Flags on the graves of military veterans at the Melbourne Cemetery early morning of Memorial Day. Later in the morning, a ceremony was held at Veterans'' Park in Melbourne with many in attendance. Sheriff Lawrence said each year's event seems to be better than the previous one and noted that keynote speaker, Dr. Dennis Rittle of Ozarka College and an Air Force veteran did a great job. Lawrence also commended others including the Lone Star 4-H group, Candi Cooper, Rick Dowdle, Army National Guard retired, Navy veteran Rick Ramsey, Navy Chaplin Retired Randy Williams, Jim Carroll, Dan Massey, and the Izard County Sheriff's Department honor guard. Sheriff Lawrence noted that Donnie Gulley's assistance every year with his behind the scene efforts in getting the park ready for the event and erecting a large tent along with providing chairs for those in attendance.
News Release, For Immediate Release, May 28, 2013, POC: Sheriff Tate Lawrence, 870 368 4203
Note: Picture ofsheriff and grandson placing flags.