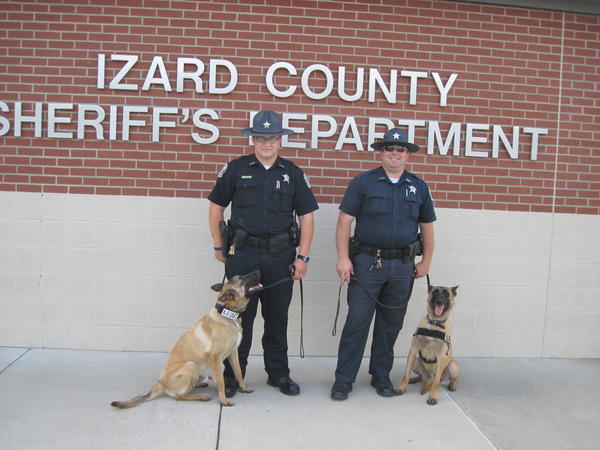 DEPUTY ACY BEEBE AND PARTNER HUGO
SENIOR DEPUTY GABE SANDERS AND PARTNER MENDY
The Izard County Sheriff's Department welcomes its two latest members, both certified drug dogs. The previous K-9 partner to Senior Deputy Gabe Sanders was with the department for a little more than 8 years and recently went into retirement and is now a family pet. Sheriff Tate Lawrence said the normal usefulness of these dogs is about 7 or 8 years.
Hugo and Mendy, the department's newest members have been on board for about a month. Each is about 18 months old and is of the Belgian Malinois breed. They and their assigned deputies were recently certified to detect the smell of various illegal substances. In addition to being drug certified, Mendy is also certified as a patrol dog capable of assisting it's handler in various enforcement situations.
Hugo is paired with Deputy Ace Beebe while Mendy is paired with Senior Deputy Gabe Sanders. Hugo and Deputy Beebe are normally assigned to night operations while Mendy and Senior Deputy Sanders will normally work days. These teams have already been successful in running drug interdiction in the county.
For the most part, these K-9 partners were purchased by the sheriff's department through generous donations by businesses, municipalities, and individuals in Izard County. Sheriff Lawrence expressed in appreciation to these organizations for their donations but did note that an additional $4,000 in donations would be appreciated for anyone wanting to donate. Donations totaled almost $7,500 while the cost was $11,500 including the dogs, training, transportation from the Slovak Repubilc, and certification. Anyone wishing to donate is invited to contact Sheriff Lawrence @870 368 4203 or send a check to the Izard County Sheriff's Department at P.O. Box 370, Melbourne, Arkansas 72556.
News Release, For Immediate Release, June 21, 2013, POC: Sheriff Tate Lawrence, 870 368 4203
Note: Pictured left to right are Deputy Acy Beebe and partner Hugo, Senior Deputy Gabe Sanders and partner Mendy.