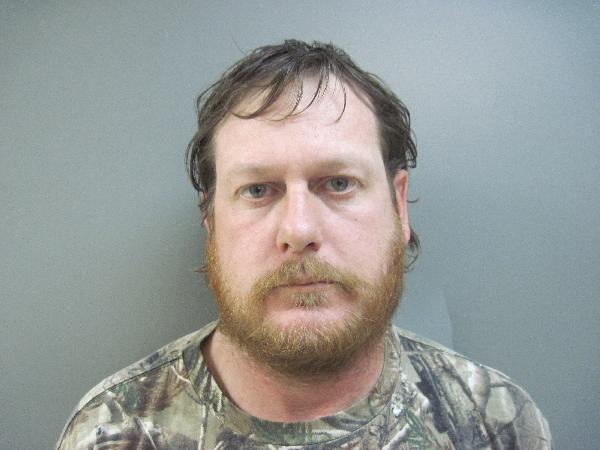 JAMES RITTENBERRY
A sex offender was arrested Sunday afternoon following a tip from a cooperating citizen. James Aaron Rittenberry, age 36 of 495 Hicks Lane in Violet Hill was convicted in South Carolina with assault and battery of high and aggravated nature and sexual intercourse with a fourteen year old female. Rittenberry is an absconder out of Pine Bluff or failure to keep his sex offender registration current. Rittenberry is in the Izard County Detention Facility pending formal charges of failing to register in Izard County. Sheriff Tate Lawrence said that he appreciates information from concerned citizens which allows the department to further protect the citizens of our county
Early Sunday morning, the Izard County Sheriff's Department and the Melbourne Fire Department responded to the driveway entrance of Quail Run Apartments with a report that a vehicle was totally engulfed in flames. Sheriff Tate Lawrence said it appeared the vehicle failed to make the turn on Moser Street from the apartments, got stuck in the ice and snow, and the driver continued spinning the tires until they got and ignited the entire vehicle. The driver, Walter Jay Ball, Jr., age 47 of Violet Hill had slight burns on his feet and a witness said he fell on the roadway causing injury to his head. There was the presents of blood only a few feet from the vehicle. Ball was charged with driving while intoxicated and taken to the Izard County Detention Facility and later to the medical center in Calico Rock. Sheriff Lawrence said it was his understanding that Ball was later transported to a Jonesboro hospital.
Deputy Doyle Cross was dispatched to West Ridge Circle in Horseshoe Bend on Saturday evening in response to a domestic violence call involving Kevin Gaeke and his mother. The mother said Gaeke had thrown things around in her house, that he was calling her names, and that he was armed with a shot gun when he left her residence. Deputy Mike Smith, assisting Cross, located Geake, age 29 of Horseshoe Bend in a shed across the street from his mother's residence The shotgun was located in a shed behind his mother's house. In addition to the charge of domestic battering third degree, Gaeke will be charged with being a felon in possession of a firearm. Gaeke remains in the Izard County Detention Facility.
Sgt. Gabe Sanders was dispatched to Mt. Pleasant on Saturday afternoon in response to a domestic disturbance call. Maurice Moser, age 22 of Mt. Pleasant was arrested on the charge of domestic battering third degree. Moser's sister said that Moser was angry that she would not get his child dressed, that he threw her phone and smashed it, hit on the head and arm while she was holding Moser's small child. Moser was also charged with endangering the welfare of a minor. Moser was charged with in November with domestic battering and committed the Saturday offense while out of jail on felony drug related bond. When arrested, Moser tested positive for opiates, marijuana, meth and oxycodone. Moser remains in the Izard County Detention Facility.
In other assault related arrests, Charles Booth, age 30 and T.J. Sanchez, age 24, both of Calico Rock were arrested after deputies arrived at 515 Chessman Ferry Road, Calico Rock. According to information obtained on the scene, Booth and a female had gotten into an altercation and the female called Sanchez asking for help. Booth was arrested at the hospital where he was being treated. It was reported that while at the hospital, Booth altered a prescription for Clonazepam to increase the strength level of the prescribed drug. Both were charged with assault and remains in the Izard County Detention Facility. Additional charges are pending against Booth. Deputies Richard Williams and Carl Russell were the arresting officers.
Richard Lee Johns, age 32 of Rose Trail, Melbourne was arrested Thursday night on an Independence County warrant. Johns was transferred to Batesville the following morning.
Warren Russell Long, age 37 of Batesville was arrested Friday night on charges of driving while intoxicated and careless driving. Long posted bond the following day in the amount of $1,155, given a court date of March 6, and released from the Izard County Detention Facility.
Brandon Heath McGinnis, age 39 of Newport was arrested Thursday night on a failure to pay fines warrant and remains in the Izard County Detention Facility in lieu of $525 cash bond.
Frank Lee Cox, age 19 of Calico Rock was arrested Thursday on a Cotter Police Department warrant. Cox posted a $305 cash bond and was released with a court date.
News Release, For Immediate Release, February 10, 2014, POC: Sheriff Tate Lawrence, 870.368.4203.
Note: Picture of Rittenberry provided