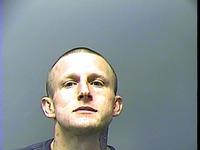 JASON BRANNON
Jason Mathew Brannon, age 22 and address unknown, registered as a sex offender with Chief Deputy Blackley of the Izard Sheriff's Department as living at the homeless shelter operated by the Gospel Truth Church in Pineville. The pastor of the church advised the sheriff's department that Brannon had left the shelter and he did so without notifying the department of his new address as required by law. A warrant of arrest was issued for Brannon and it was determined that Brannon was being held on another offense in Baxter County at which time he was arrested on Izard County charge of failing to comply with registration and reporting requirements of a registered sex offender, a class "c" felony. Bond for Brannon was set at $20,000 by District Judge David E. Miller
A call to Quail Run Apartments in Melbourne on Thursday resulted in the arrest of Joseph Jay Swik, age 19 of that address. The complainant, Lonnie Kurtley said that his son Joseph was making threatening comments to him. The father and apartment manager wanted Swik removed from the premises. Deputies found Swik passed out on the couch, would not cooperate, and later not forthright with answers to deputies questions. Swik was charged with terroristic threatening and taken to the Izard County Detention Facility where he remains pending a bond appearance before District Judge David E. Miller.
A Melbourne woman was arrested shortly after midnight Friday on Zion Road after being dispatched there to assist emergency medical personnel. Delores McNealy, age 36 of Melbourne appeared to have missed a drive way. McNealy, who had children in her car was charged with public intoxication and endangering welfare of a minor. She remains in the Izard County Detention Facility in lieu of a $1,415 bond.
James Teague, age 28 of Wolf Road in Dolph was arrested March 24 following an altercation with his father. It was reported that by Teague's father that had driven in the driveway of his sons house, was asked to leave and when he didn't the son knocked the driver side window out of the truck. The flying glass cut the father on his face on and on the face of one of the children truck. James Teague smelled heavily of intoxicants. James Teague was charged with domestic battering third degree-two counts, endangering the welfare of a minor and criminal mischief chief. Teague was released the following day with no contacts orders and a court.
Bradley Wayne Welch, age 29 of St. Louis, Missouri was arrested March 22 on a failure to appear warrant. Welch posted bond the following day in the amount of $4,430 and was released from the Izard County Detention Facility.
Brandon Scott Stanley, age 40of Pineville was arrested March 22 on an outranking Baxter County warrant and was transferred to Mountain Home the following day.
Three people were arrested following a Thursday altercation at a residence on Peterson Circle in Mt. Pleasant. Deputy Roger Vanlandingham was dispatched to that residence around noon in response to a reported fight between Robert Hunter, his daughter Melody Hunter and two of her friends, Justice and Patience Moore. According to Deputy Vanlandingham, the three appeared at the residence, was invited in by a small child but was immediately asked to leave by Robert Hunter. An argument began and Justice Moore pushed Robert Hunter with her body. He fight ended outside of the residence. Justice Moore, when leaving in a vehicle, is alleged to have attempted to run over Robert Moore and he picked up a stick of wood and threw it at the car.
Justice Moore, age 18 of Melbourne was charged with assault second degree and three counts of endangering the welfare of a minor. Patience Nicole Moore, age 19, also of Melbourne was charged with assault in the second degree. Melody Hunter, age 21 of Mt. Pleasant was charged with criminal trespass and obstructing governmental operations. Hunter is being held on a $1710 bond and the Moore's are awaiting an appearance before District Judge David E. Miller.
A late night traffic stop Friday for a defective head light lead to the arrest of Beau Delay Rogers, age 19 of violet Hill. Rogers had in his possession several cans of beer and a liter of hard liquor. Rogers was charged with possession of intoxication liquor by a minor. Rogers was released from the Izard County Detention Facility the night of his arrest after posting a $605 cash bond.
Six inmates of the Izard County Detention Facility were transported March 24 and 25 to the Arkansas Department of Correction. Austin Spencer Patterson, age 20 of Evening Shade was being held on a probation/parole violation; Chad Jerome Langston, age 28 was being held on failure to register as a sex offender and a parole violation; Jason Lee Lewis, age 40 of St. Joe was being held on various charges including absconding; Eric Miller, age 32 of Horseshoe Bend was being held on assault charges; Ricky Lee Schultz, age 52 of Sage was being held on fleeing and failure and violation of conditions of parole; and Kenneth Rayed Stephens II, age 29 of Batesville were all transported by Izard County deputies.
News Release, For Immediate Release, March 30, 2014, POC: Sheriff Lawrence, 8703684203
Note: Picture of Brannon provided