KEVIN CHUTE STEPHEN CHUTE CINDY ARNOLD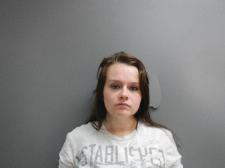 ANDREA STACY
A search Wednesday for Kevin Chute, who had an absconder warrant eventfully resulted in his arrest and the arrest of several family members. Chute, age 44 of Pineville and a parolee from the Arkansas Department of Correction was being sought by parole officers and Izard County deputies. The officers approached a residence on Dolph Road looking for Chute and made contact with Seven Chute, Cindy Arnold, and Andrea Stacy who were told that Kevin Chute had warrants and were asked to notify the sheriff's office should he return to the residence.
Later the same day, Chute fled from offices from a residence in Fulton County. Search was unsuccessfully conducted using the department of corrections tracking dogs. The following day, on Thursday August 13, Chute was located in a mobile home at 445 Gentry Road in Dolph along with Cindy Arnold, Steven Chute, and Andrea Stacy.
Kevin Chute was arrested on the absconder warrant and was also charged with fleeing. His son Steven Chute, age 25 of Dolph; Cindy Arnold the mother of Stephen and ex-wife of Kevin, age 44 of Dolph and Andrea Denise Stacy, age 19 of Briarcliff, the live in girlfriend of Stephen were all charged with hindering apprehension. Steven Chute was additional charged with being a felon in possession of a firearm, a class "d" felony.
Kevin Chute remains in the Izard County Detention Facility without bond, Cindy Arnold remains in jail on a $620 bond while Andrea Stacy was released to Baxter County authorities who have charges on her as well.
News Release, For Immediate Release, August 17, 2015, POC: Sheriff Tate Lawrence, 8703684203
Note: Picture of Kevin Chute, Stephen Chute, Cindy Arnold, and Andrea Stacy provided